Podcasts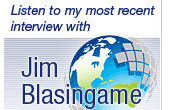 Jim Blasingame:
The Small Business Advocate Radio Show
Debbe Kennedy regularly joins Jim Blasingame's show as part of the "Brain Trust". RECORDED programs at link above. TOPICS include "Small Business Innovations in an Economic Downturn," "Survival of Your Business Requires Action," and "Getting Ready for the Next Great Opportunity."



Shift in Action -- ConverZations that Matter
a program of the Institute of Noetic Sciences
a teleseminar hosted by Belvie Rook
Interview with Debbe Kennedy,
author of Putting Our Differences to Work

Belvie Rook and Debbe Kennedy, author of Putting Our Differences to Work, explore the need for changing the prevailing rules of how to think, behave, and operate as leaders and innovators in both business and society and how it can influence great change. Learn about five distinctive qualities of leadership that we all need to add to our portfolio of skills to master the art of putting our differences to work to expand the value you bring to your organization, community, and the world.
Includes discussion with the audience.
Listen to podcast (16MB):
About Shift in Action...
This recording was produced by Shift in Action, a program of the Institute of Noetic Sciences. Shift in Action features the largest web library on conscious change, including work from more than 350 inspiring leaders such as Deepak Chopra. For more information, visit www.shiftinaction.com, or you can listen to free samples of their weekly teleseminars here.



Learning from One Another's Role Models
A Greater IBM Global Women's Gathering
Co-Hosted by Debbe Kennedy
with special guest, Amparo Moraleda, IBM President of Spain, Portugal, Greece, Israel
Recorded audio and visuals available here




Why Diversity is Critical to Excellence!
A personal interview podcast with Debbe Kennedy with Women's Radio Founder, Pat Lynch.
Listen now.
www.womensradio.com




Video Introduction to Putting Our Differences to Work
Author Debbe Kennedy talks about Putting Our Differences to Work: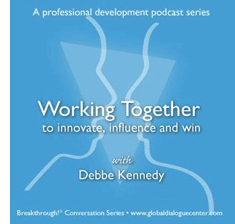 WORKING TOGETHER
A Professional Development Learning Series
by Debbe Kennedy
Are you looking for ways to become more effective as a contributor and leader in your organization? Working Together is an audio podcast learning series geared for busy professionals who want to increase their effectiveness and develop themselves personally and professionally.
WHAT'S INCLUDED
Each Working Together episode includes:
a 25-30 minutes one-on-one session full of timeless wisdom and practical how-tos to address everyday issues we all encounter in the workplace
leadership tools that will build skills, confidence and effectiveness
inspirational examples that will help you put what you've learned into practice
a downloadable PDF support document for each episold that summarizes key points, provides tools to put into practice and recommendations for other leading-edge development resources to expand the your learning experience.